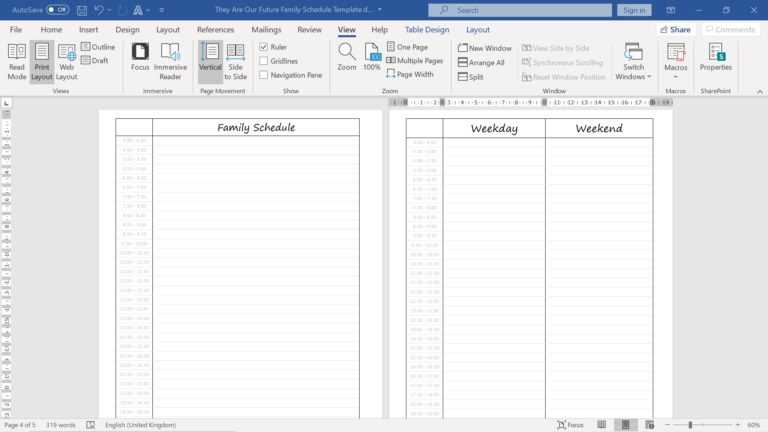 1. After downloading and opening your template document, choose which template you want to use. 
In this video I'm using just the family schedule (even though it says weekday, sorry about that – my error!)
DISCLAIMER: The font in your template will differ to the one I'm using in the video, because I have custom fonts installed which won't necessarily be on your version of MS Word.
2. Highlight the hours in the time column and change their colour from grey to black.
3. Under 'Table Design' click the pen colour button and then draw lines to section off the times.

If you can't see the 'Table Design' tab, just click anywhere inside the schedule and it should appear.
4. Write in the activities you'd like to do in each section.
If you've read my post on 'How To Make Your Own Family Schedule' you'll know BEFORE starting to create your schedule, you should write down a list of the the things you and your children need and do in a day. Click here to read that first before you continue. Or stop and write that list now.
Don't think of your activities as fixed to any specific hour or half hour time slot. These are flexible time frames in which to do the things you would like to in a day.

You're the boss, you choose and decide based on your needs and the needs of your children, how long or little you spend each day.  It can and will vary. That's natural and normal. Go with the flow, using your schedule as an anchor. This way your family schedule will be more sustainable.
5. I like to get rid of the lines so I have time blocks rather half hours by highlighting the sections, hitting 'Layout' and then 'Merge Cells'.
6. You may want to split sections into 2 (or more) columns, when the activities you and your children are doing differ.
For example, in the afternoon, when my kids have screen time, I like to indicate on the schedule that I'm working at that time. Similarly, you could use columns if you and your spouse take it in turns to be with the children.
Customisation to your unique family needs, is endless.
To split sections into mulitple columns, hit 'Layout' and then 'Split Cells'.
A dialogue box will pop up indicating you to choose the number of columns and rows you wish the section to be split into.
Make sure that the number of rows is set to '1' and then choose how many columns you'd like. In my schedule shown above, I selected '2'.
7.  Once you're happy with it, you can now add colour (completely optional!)
Highlight the sections you want to colour then hit 'Home'. Select the paint bucket tool and then the colour you want.
I colour code my schedule to indicate the overall balance in my day. This way I can see, and feel content with, how much time I've spent; on myself, my children, my home and my husband, and also whether or not I've balanced out the needs of my heart, mind, body and soul.
Getting Everyone on-Board
Once you're happy, save, print and share your schedule with your family.
Find a comfortable and relaxed time to sit down together with your children. Run through the schedule and talk about what they can expect from their day. Keep it positive, let them ask questions and clear up any confusion.
If you're met with heavy resistance, especially from older children, listen to their point of view, try to accomodate their requests where appropriate. You can suggest that you will trial this schedule and make adjustments after a week or so, or when needed.
Once everyone is on board and content, remind them over the course of the day what's next on the schedule.
Keep it positive. And most importantly keep it flexible!
Some days parts of your schedule will go out of the window. And thats perfectly fine and normal. The important thing is, and the beauty of having a family schedule, is that it's always there to pull you back to a place of control and direction. It provides much needed stability and routine. So use it to your benefit. Your schedule is there to serve you. If it's not serving you, it's time to think about and write down why it's not, then tweak and start over.
If you have a go at making your own schedule, I'd love to see it! Please share it with me on Instagram by tagging @theyareourfuture :