The fun, hands-on and social way to learn science, tech & engineering
Using what kids love (Lego!) to motivate, engage and help them learn the way Allah created them to (through curiosity!)

😍🎉👏
Are you a home-educator, like us, and want your children to love learning and enjoy their education?
Do you want your children to have real-life experiences, to learn-by-doing and be motivated by their natural curiosity?
Providing everything your child needs, all on your own, is hard, stressful and exhausting. 😔
Parenting is a huge job in itself, and with other children to care for, shopping, cooking, cleaning and working as well, our dreams for home schooling can start to get lost and confused.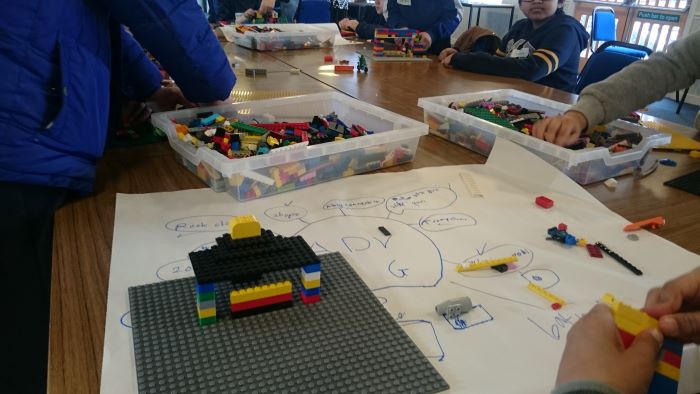 As parents of 4 children, home-educating since 2009, we faced the same problem, especially when our children entered the pre-teen and teen years. 😅

The curriculum takes over, with tuition, online classes and bookwork becoming priority, as we worry about the exams and futures of our children. 😔
But our young students are still children, and all the traditional academic, sit-down-at-the-table work steals their creativity, curiosity and leaves them frustrated, sometimes unhappy and with lots of pent-up energy.
The truth is children learn best when they:
 
enjoy what they're learning ☺️
use their hands with practical work 🙌
think for themselves to explore, experiment and investigate 🧠

😎😎😎
And with their growing minds, budding independence and desire to build their own identities, you'll notice, like we did, that our older children need:
More social time
More trusted teachers
More independence
👏👏👏
That's why we launched STEM Lego Club back in 2018 🎉
Successfully running it for 2 seasons in Bordesley Green. Our many, many happy students learned through play, creativity, challenges and teamwork, building Lego bridges, speed testing Lego vehicles, brainstorming creative Lego designs and so much more. 😍
But in 2019 we had to say goodbye to Lego Club as we took time off for other projects and to grow and develop our own family. Both students and parents, were sad to lose our much loved Club.
But, with lockdowns hopefully a thing of the past, with the new school year in full throttle, and another pre-teen son and daughter of our own, we decided now was the right time to bring STEM Lego Club back!
🎉
In our new, easily accessed location in Nechells, our STEM Lego Club students can spark their love for science, tech, engineering and maths, in a fun, relaxed and social environment.
With plenty of hands-on, learn-by-doing challenges, students will:
Test & investigate
Solve problems
Learn core physics & engineering principles
Work in teams and independently
Curriculum created by Dr Uthman Khan
Engineering & Innovation Expert
Dr Uthman Khan is an Innovation Consultant to engineering and tech companies. Previously teaching post-graduate Mechanical Engineering students as a senior lecturer, Dr Uthman is an expert educator and passionate about helping children and young people develop and succeed.
Sessions delivered by Mariya Khan
Trained Life Coach & Home-educating for 12 years
As a mum of 4 and home-educator since 2009, I am experienced in running children's educational activities, trips and clubs. Running STEM Lego Club allows me to help your child use their natural curiosity to investigate and problem-solve their way through a series of fun challenges. Using my skills as a trained NLP life coach, I will also build your child's confidence, resilience and self-esteem, whilst boosting their creativity and social skills too.
Together, as a husband & wife duo, we founded the 'They Are Our Future' project to help Muslim parents build strong, akhirah-centric, compassionate and respectful families. 👨‍👩‍👧‍👦


STEM Lego Club is part of this important and much-needed project.
Sign your child up for STEM Lego Club if your child LOVES LEGO and you want:
your child to love learning too! 🤩


to spark or develop your child's love for science & engineering 🦾


hands-on, organic, learn-by-doing experiences for your child 🙌


have your child learn with a passionate, gentle & experienced teacher 🧕


your child to learn core physics & engineering principles 🤓


your child to learn in a safe environment with trusted role models 🤝


like-minded social company for your child in an Islamic environment ☝️🕌


👏👏👏
📋 What: One session per week, for 6 weeks
📆 When: Thursdays, starting 11th November
⏰ Time: 10.00 – 11.30 am
📍 Where: The Wisdom Centre, Nechells, Birmingham, B7 5QD
💷 Cost: Just £7/session! (paid in full for all 6 sessions £42)
👩‍👧‍👦 Who for: Boys and girls aged 7-13

Message me (Mariya) now on 07930 858 071

to reserve your child's place


📣📣📣



STEM Lego Club is popular!

Limited places are available, so book now to avoid disappointment.



Message me (Mariya) now on 07930 858 071

to reserve your child's place